HELLO AND WELCOME TO MY SITE.

My pages are continually being updated and added to, so please check back again. (lLast updated on Nov. 2006).

My role as a daughter, sister, wife and mother took on another dimension when I encountered the fascination of my ancestry. Genealogy has become my passion - it has completely taken over my life, at times becoming my life!

In the pages that follow, I chronicle some of my finds from delving into generations of discovery.

Pages on this Site thus far (click to access):

MACKENZIE LINEAGE

SUTHERLAND CONNECTIONS

CROWE LINEAGE

MY OTHER LINES

SCOTLAND PHOTOS

FAMILY PHOTOS


If, like me, you are researching your own family roots, have sites or information to share, or if you think you may have connections to my ancestry, please e-mail me. I have much more information than posted here. I am always looking for more information, of course, and I am also quite willing to share what information I have. I also love finding new connections and long-lost relatives.




camack@eastlink.ca
A LITTLE ABOUT ME
I was born and raised in Montreal, Quebec, the oldest of five children. My family moved to Williamsport, Pennsylvania, when I was 16 years old. I attended business college in Charlotte, North Carolina. After graduation, I married my first husband. We had four children - the oldest we adopted when he was eight years old. During my first marriage, we lived in Minot, North Dakota, and Williamsport, Pennsylvania. In 1976 we moved to Prince Edward Island, Canada, where I lived until September of 1999. We divorced in 1983.
I was then single for nine years, raising two children on my own. I remarried a second time in 1991 but, unfortunately, this marriage only lasted for five years.
My current, and last, husband Gary is a MacKenzie as well. We married on April 8, 2000. He is descended from the Salt Springs MacKenzies who came over to Pictou County, NS, from Loch Broom, Scotland, in 1803. No relation to my line of MacKenzies that we know of!
Gary and I enjoy travelling, going to movies and theatre, and dining at different restaurants and trying different food. We used to have a lot of fun in our 35-foot Fifth Wheel - we spent several weeks in the trailer from mid December 2003 to March 2004 traveling to Florida and visiting places along the way, which we sold in November 2006. Gary and I also enjoying cooking and entertaining; we sip wine while rubbing elbows in the kitchen as we prepare our scrumptious delicacies.
Besides Genealogy, I enjoy sewing, crafts, house redecorating, writing, acrylic painting, watercolours, and photography. I love taking care of my husband and our house and enjoy spending time with family and friends.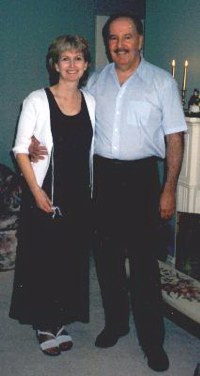 Cathy and Gary, April 8, 2000
Our wedding day!
SOME MORE PHOTOS: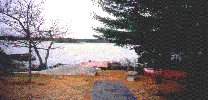 Part of our backyard, bordering on
Five Island Lake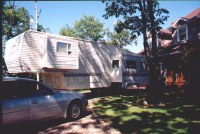 Our 35-foot travel trailer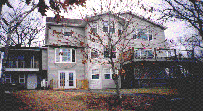 The back of our house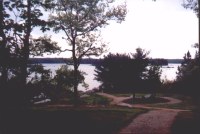 Another view of our backyard and Lake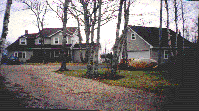 The front of our house and
garage




camack@eastlink.ca